High School Symposium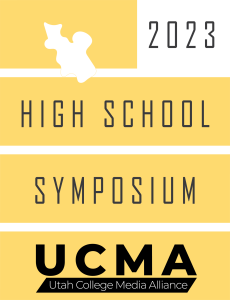 The Utah College Media Alliance hosts a free annual symposium at Salt Lake Community College to provide basic media and journalism training to high school students and advisors. Our goal with this event is to help entire classes and groups of students improve their skills. Space is limited each year. The 2023 symposium will be Friday, September 15 from 8:30 a.m. to 1 p.m. Lunch will be provided.
When: Friday, September 15, 2023 • 8:30 a.m. – 1 p.m.
Where: Salt Lake Community College South City Campus
What: Journalism Superpowers: Join other high school media teams from across the state in a day-long program featuring college newsroom advisers to discover your hidden journalism superpowers
Register here (remember space is limited, so begin your planning now)
Session topics include:
• News Writing
• Subjective vs. objective
• Interviewing
• Photojournalism
• Newspaper Design
• Copy Editing
• Writing for Video
• Video tips
• Journalism ethics
• Managing peers
Financial assistance is available: We are committed to providing the opportunity for underrepresented students to attend. If your school could benefit from financial assistance, please describe the circumstances and need in an email to [email protected].