Car Stolen at Utah State, Police Chase and Crash Ensue
By: Hala Louviere and Jessica McMann
Photography by: Sarah Bounmixay
Videography by: Amelia Strange and Maria Jacome
Early Wednesday morning, a car stolen by three teenage boys crashed into a parked car on the south end of the USU Quad. The driver and passenger jumped out of the car, but a bystander tackled the driver. Injuries were minor, according to the Cache Valley Police Department, but the incident was still multifaceted.
The day's events began at 6:45 when the boys (17, 16, and 13-years-old) escaped from Logan Academy, a residential school for youth with mental illnesses. Their plan was to travel to Bear Lake to "have some summer fun," according to Susan Polster, the CVPD Public Information Officer (view map below to see the distance between the Academy and USU).
Map created by Hala Louviere
About the same time, Robyn Champion was taking her daughter to Aggie Creamery when she noticed something fell off her car, a 1969 AMC Rebel. She pulled into a parking spot and, not wanting to bring the whole keychain, left the keys in the ignition. Champion took her daughter and purse with her down the street to see what had fallen off.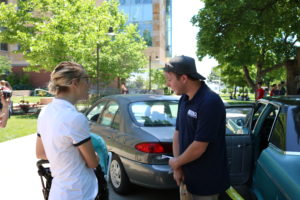 This was the point that the three boys found the Rebel. The boys later told police that they the "really ghetto, old looking car" because it looked abandoned. "We boost ancient, abandoned cars like this all the time on GTA," the 17-year-old told detectives. "It looked like it hadn't been driven in years, maybe decades. I thought it was fair game." When interviewed individually by officers, it was realized that the 13-year-old did not know about the plan to steal the car, according to the CVPD press release.
The car then was chased by campus police down 1200 East and Highway 89 and eventually made its way across Champ Drive and onto the sidewalk between the Agricultural Science Building and the Quad. Lillieth Champagne, a University student, saw the stolen car drive past her and nearly hit a tree. Polster added that the car was traveling at an estimated speed of 50 MPH and narrowly avoided hitting a few people. The car then hit another, parked car before it came to a stop on the sidewalk. The owner of the second car could not be disclosed by responding Officer Labrawn Jaymez (view map below to see the car's route once stolen).
Map created by Utah State University Student Media
At this point, the two older passengers fled from the car, locking it behind them. The 13-year-old was locked inside, however it is unclear if this was on purpose or by habit of the driver. Jason Terry, a University student, was heading to class when he noticed that "something didn't feel right. The car was going too fast." Terry also noted that high school students aren't usually seen on campus, so when they ran past him it seemed significant. Terry knew something needed to be done, so he chased after and tackled the driver. "I don't consider myself a hero, I just did what needed to be done," he said.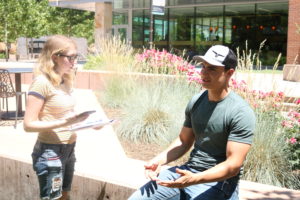 The passenger tried to continue running, but tripped on a sprinkler head and twisted his ankle. When responding officers arrived, one officer attempted to apprehend the 16-year-old, but upon defiance, deployed a taser at the juvenile. According to the CVPD Initial Contact Report, he was treated by EMTs after complaining of losing consciousness and disclosed he had a heart condition and was also on seizure medication. Moments later EMTs rushed him away after he had a Grand Mal seizure. He was transported in critical condition. He will be arrested after he is checked up on and cleared by hospital staff.
The 13-year-old passenger was released back to the Logan Academy and will not be charged in relation to stealing the car and evading law enforcement. The older two boys will be booked into the Cache Valley Youth Detention Center after they are released from the local hospital for treatment of their injuries. They will face charges related to stealing the car, fleeing from law enforcement, kidnapping.
CVPD is Endangering Citizens
Editorial by: Hala Louviere and Jessica McMann
Yesterday's incident on the Quad continues to unravel as the Initial Contact Report from the Cache Valley Police Department is released. In this report, it is discovered that there are many procedures that the CVPD is not trained on, yet performs in times of crisis. These maneuvers put lives in danger yesterday and very well could again.
First, in the midst of the chase, Sgt. Korver initiated a maneuver intended to stop the teen drivers. He later told Deputy Kevin Love he hadn't ever been trained on it but had seen it on several T.V. Shows and binge-watched "Chicago PD" episodes. Because he did not have the proper training, it failed and caused the driver to lose even more control and keep driving toward oncoming traffic. This behavior risked the lives of three teenage boys, the youngest of which was 13, and other drivers on Highway 89.
Second, once officers arrived at the crash, Love carried out another dangerous police-sanctioned action. According to the Initial Contact Report, in Love's point of view, "[The 16-year-old] twisted his ankle, allowing time for me to arrive and detain him after I asked him to stop and put his hands up. I deployed a Taser when the juvenile did not comply. He was treated by EMTs after complaining of losing consciousness and disclosed he had a heart condition and was also on seizure medication. Moments later EMTs rushed him away after he had a Grand Mal seizure. He was transported in critical condition."
The most heinous part of the story is understanding the background to Love's actions. "I am not Taser certified," he said in the report, "but I had been given one that morning by officer Korver as I ran to catch up with the teen. He threw it to me as I ran and said, 'knock him out – finish him.'" The CVPD is condoning dangerous actions by its officers. Without Taser training, Love sent a young man to the hospital in critical condition, which could have been avoided had he not been poorly advised by his superiors.
Changes must occur in the department to put an end to this dangerous actions. Cache Valley residents will not be able to continue their lives without fear of injury until this changes occur.